The Kink Bundle
Everything you need to fully explore BDSM, kink, and the Dom/sub lifestyle.
Ends Tuesday, August 22nd @ Midnight PT
Are you ready to make your needs and wants a priority?
Listen, we get it. Learning about the kink lifestyle can be so overwhelming. But we're here to help you take your relationships and sex life to the next level. We put together an incredible package of online products at a magically low price.
Introducing the Kink Bundle:
WORLD-CLASS EDUCATORS
Featuring Your Favorite Mentors
PLUS DOZENS MORE!
A CLOSER LOOK
Here's Everything You Get in the Kink Bundle
Help Your Partner Be More Dominant, Submissive, or Kinky
Do you secretly wish your partner would take more initiative in the lifestyle as a Dom or sub? In this course, learn everything you need to know about getting your partner on board and comfortable with the BDSM lifestyle, so you can start getting your needs met – fast!
Regular Price: $149
Hot & Healthy Erotic Humiliation
Are you curious about humiliation play? In this workshop, Sunny Megatron deconstructs erotic humiliation to help you figure out what flavor gets your juices flowing. You'll learn: negotiation, gauging intensity, emotional safety, injecting humor, and more. You'll also receive a workbook plus a general BDSM scene negotiation workbook.
Regular Price: $39
Goal Setting Genius
This 49-page BDSM workbook has been designed to support existing Dom/ Sub couples take their partnership to the next level through a guided goal-setting process. Whether that is about improving scenes, tapping into new desires, boosting communication or turning their intimate Dom/ Sub relationship into a lifestyle.
Regular Price: $16
Exploring Anal Pleasures
Are you ready to step into the thrilling embrace of anal play and training? Tear down the misconceptions about anal play, learn how to do a cleansing anal douche, and begin to explore all the facets of anal play, from manual stimulation and butt plugs to anal sex and more!
Regular Price: $10
Reconnecting With Your Sexuality After Trauma
We will cover different types of sexual trauma, providing a starting place for healthy processing, discuss things that may come up, how to tackle them, and tools to get you reconnected with your sexuality.
Learn how to start the healing process and begin handling the shame.
Regular Price: $33
Power Exchange Bundle
3 workshops featuring An Intro to Submission, Domination, and Discipline & Punishment. This bundle is for anyone wanting to explore power play dynamics. You do not need to be in a D/s relationship or practicing kink to benefit. They are a great starting point for developing your existing kink practices.
Regular Price: $129
Delicious Dominance Skills
Unleash the sizzling world of Delicious Dominance with Luna Matatas. Get skills for building scenes, nourishing consent, safety and communication, finding your dominant style and unlocking erotic creativity. Learn how to connect with your erotic dominance, get tips for beginner BDSM activities, and learn how to co-create with your submissives.
Regular Price: $30
Having a Morning Routine Workbook
The Having a Morning Routine Workbook was created to help submissives understand the importance of self-care in life and in a D/s dynamic. This guide will help submissives prioritize their physical, spiritual, mental and emotional needs and provides easy to follow action steps.
Regular Price: $40
Sensuality for Overthinkers
Sensuality for Overthinkers is the mini-course that teaches you how to get out of your mind and into your body, even if you've struggled with meditation or mindfulness in the past. In this course, you will master the basics of embodiment and add more pleasure to your everyday life.
Regular Price: $47
30 Days of Kinky Self Discovery
This workbook is a compilation of the 30 best exercises I'd created over 10 years of teaching to help people get to the core of their needs and desires in kink.
Regular Price: $7
Consent is Sexy: Practicing Consent at Play Parties
Distribute this to your attendees to create a fun, safe experience for all! This digestible three-page guide goes over what affirmative consent means, how to know if someone is truly consenting, how to ask someone to play, how to gracefully receive a "no," how to discuss STI status, and more!
Regular Price: $300
The eBook of Kinky Sex
The eBook of Kinky Sex Ideas is the ideal handbook for anyone looking to take the pressure off and seamlessly integrate new ideas.
You'll find 4 chapters spread out over 150 pages, with more than 180 illustrated ideas.
Regular Price: $25
Building Protocol
Protocol is a ritualistic set of rules that is created to explore power exchange between two (or more) people. This class will teach you how to form your own protocol that feels unique and assists in growing trust in a dynamic.
Regular Price: $20
The Sensation Matrix
The human body is exquisitely designed to experience a wide range of sensations.
From smooth to scratchy, hot to cold, sharp to thuddy – erotic possibilities abound. With this interactive mini-course, you'll be guided in exploring 50 kinds of erotic sensations and given tools to discover your next favorites.
Regular Price: $47
So You Want D/s? Now What?
Learn the fundamentals of D/s, how to avoid common pitfalls and mismatched desires. Explore the difference between "D/s scenes" vs "D/s Relationships" and why these matters. Discover D/s Desire Mapping to communicate your desires and needs, and prepare yourself for the D/s that you seek.
Regular Price: $39
Learn How to Create Your Risk Profile
In this class you will learn one way to advocate for yourself and minimize your risks using a risk profile. We talk about what it is, what information is important to know before setting one up and go over the steps to create your own personal Risk Profile.
Regular Price: $15
Sensual Self Tying
Want to learn how to use rope to tie yourself, explore your sexual edges, learn more about yourself as an erotic creature, and add tools to your sexual tool-belt?
Regular Price: $80
1 Year Premium Membership to Obedience App
Connect to your dominant or submissive, and keep track of your rules, tasks, habits, punishments, rewards, and more. The Obedience app will help you improve your BDSM dynamic.
Premium membership will give you access to unlimited tasks, color themes, habit reminders, and more!
Regular Price: $20
30 Days of D/s Workbook
30 Days of D/s is a workbook designed to help anyone new to power exchange relationships navigate what Dominance and submission looks like for them. Each prompt introduces a single concept for you to think about either as a single Dom or sub or as a couple together.
Regular Price: $10
Navigating Jealousy in Your Relationship
Unpack the complex emotion (or set of emotions!) – jealousy. Whether you're monogamous, polyamorous, or something in between, you'll learn how to identify jealousy, communicate about it, and how to cope with this emotional beast in your relationships.
Regular Price: $33
Kink Beginnings Bundle
Get the tools to unearth your pleasures, resources to dive further, and the strategies you need to play with confidence & knowledge! Learn how to plan & engage in scenes, set intentions, negotiate & communicate, look for signs of good partners, and more!
Regular Price: $47
Service: The Art of Giving & Receiving
We frequently make "submission" synonymous with "service," and "dominance" with "making orders", but they are not the same. What kind of service do you want to offer, and receive? Get ready to dive into these, and more. There is much to explore in the Service Unit of D/s Playground!
Regular Price: $69
Invisible Pain: How to Inflict Pain Without Marks
Join Justine Cross for Invisible Pain a creative & fun for all skill levels, but some techniques are very advanced. She breaks down pain and how to deliver it without marks while supporting ways to explore and discuss desire, BDSM and sexual interests in an open manner.
Regular Price: $30
Kink Starter Pack
Spank, choke and a hairpull. I call these The Kink Starter Pack. Not because you should start with them, but because many start here despite the learning curve.
From novice to pros, there's always something to gain with these crowd favorites. Why not get better at something you love?
Regular Price: $25
The Complete Guide to Primal Play
In this workshop, the complex world of Primal Play will be demystified. Everything will be broken down step by step, including what primal play is and isn't, stereotypes, and the best ways to get started doing primal play. You'll get novel scene ideas, tips for scene-building, creating connection, and more!
Regular Price: $60
6 Month Membership to Dating Kinky
Dating Kinky – By kinksters, for kinksters. Dating, because we know how hard it is to meet amazing kinky people like you. Education (over 600 hours!) because we want you to make the most of these connections and live joyous, sexy, and kink-filled lives.
Regular Price: $50
Boost Your Confidence as a Submissive
Feeling insecure whether you have what it takes to be a good submissive? This class is for YOU! Including a helpful workbook to find out why you are unique and what you have to offer.
Regular Price: $107
Guide to CGL Dynamics
In this guide, you will learn about the Caregiver/Little dynamic (CGL) and answer these questions: What is a Caregiver? What is a Little or Middle? And what may a CGL dynamic look like in practice?
*Bonus content: Using the act of care to elevate your power exchange dynamic.
Regular Price: $80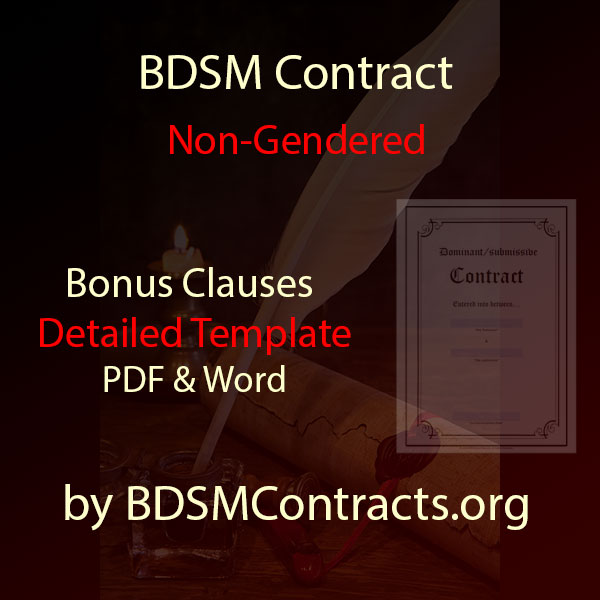 Non-Gendered Dominant/submissive Contract
A detailed legal-style contract to negotiate and formalize your BDSM relationship. All the important relationship formalities are covered including rights, responsibilities, limits, punishment, communication, areas of control & more.
Includes PDF and Microsoft Word formats, plus 3 pages of bonus clauses for ideas.
Suitable for all levels, beginners to experienced.
Regular Price: $19
BDSM, Codependency, and Attachment
Communication in BDSM and kink is centered around relationship dynamics.
Nothing can gum up the works better than running into attachment issues and codependency.
Learn how to identify and move through relationship patterns and communication issues to have a healthy fulfilling dynamic!
Regular Price: $29
A Beginner's Guide to Kink
Everyone likes a change of pace now and then and kink presents some wonderful tools for playing with vulnerability and enhancing intimacy and connection. This class will introduce you to common kinks, safety, negotiation & communication, how to introduce new things to your play, and aftercare.
Regular Price: $25
The Charm of Choking
Are you thinking about choking during play? This workshop aims to educate you on different choking techniques and combining them with dirty talk techniques to make sure that you entice your target properly and seductively. This is your chance to master the choke and charm your person into sensual submission.
Regular Price: $145
Queer Archetypes and Kinks
A potent 3-module mini course for queer babes. Connect deeply with your unique queerness, explore lesbian energetics, and follow our step-by-step roadmap to weave kinky power play into your queer dynamics. Experience ultimate pleasure expansion and unlock fulfilling, authentic queer connections.
Regular Price: $270
DON'T WAIT LONG
The Kink Bundle is A Once-In-A-Lifetime Offer
We know you need no more reasons to understand that this is an offer that you don't want to miss. If you've ever thought about investing in knowledge to help start or grow your kink lifestyle, we are certain you will never find a better opportunity than the kink bundle.
Don't miss this chance to get your hands on all the necessary resources to finally take your sex life, relationships, and happiness to the next level.
This is the one shot you have to get these 33 products for just one payment of $99 USD!
How are we able to offer such a discount?
The amazing creators that put together each of these offers are all very smart people and believe in the power of collaboration. They realized that together, and with our help, we can reach thousands of people, so many more than they could on their own.
These creators accepted our crazy deal to gain exposure and reach a new audience. It is an investment for them. In any case, they only accepted our deal because it only lasts for a week, so hurry!
HOW IT WORKS
We make it easy to access the Kink Bundle
Frequently Asked Questions About the Kink Bundle
Is it difficult to access the products in the Kink Bundle?

Not at all. In some cases you'll simply need to provide your email address and then the training or ebook will be sent directly to you. In other cases, you must visit the creator's website, add the product to your shopping cart, and enter the unique coupon code that we'll provide so you can have access without paying for it.

It couldn't be any easier. However, if you have any questions during the process, you can send us an email and our customer service team will help you right away.
Will I be able to buy this bundle later?

No. These products have a high value and the only reason their creators accepted our deal is because this is a one-week only offer. After the specified time period in our agreement, we really aren't allowed to sell it any more, so there are no exceptions. It truly is now or never!
For how long will I be able to access the products?

Once you buy the Kink Bundle, you have a full 30 days to enroll into the different offers and create a login. However, once this step is completed, you will have ongoing access!

Once you've signed up for each of the offers, your username and password won't expire unless the creator closes their blog or website, so you will be able to access them whenever you want for the rest of your life!
I didn't find my question here.

Our bundle is quite simple. It is a well-curated pack of digital products that we are able to sell for the duration of a week at a 95% discount off the original price, thanks to a deal we've closed with each of the creators.

After the purchase, you will receive an email with a link to your unique landing page explaining how to access each of the products for free. It's really easy and you'll be able to do this straight away!

But of course, if you have other questions that you'd like to be answered before purchasing your bundle, please use the chat box at the bottom right corner of this page and we will be happy to help you.
What People Are Saying About Our Bundle