I have a one-time, special offer for you!
The Quick Start BDSM Bonus Bundle
Everything you need to know about
the Dom/sub lifestyle, so you can start having kinky sex right now
INTRODUCING THE
Quick Start BDSM Bonus Bundle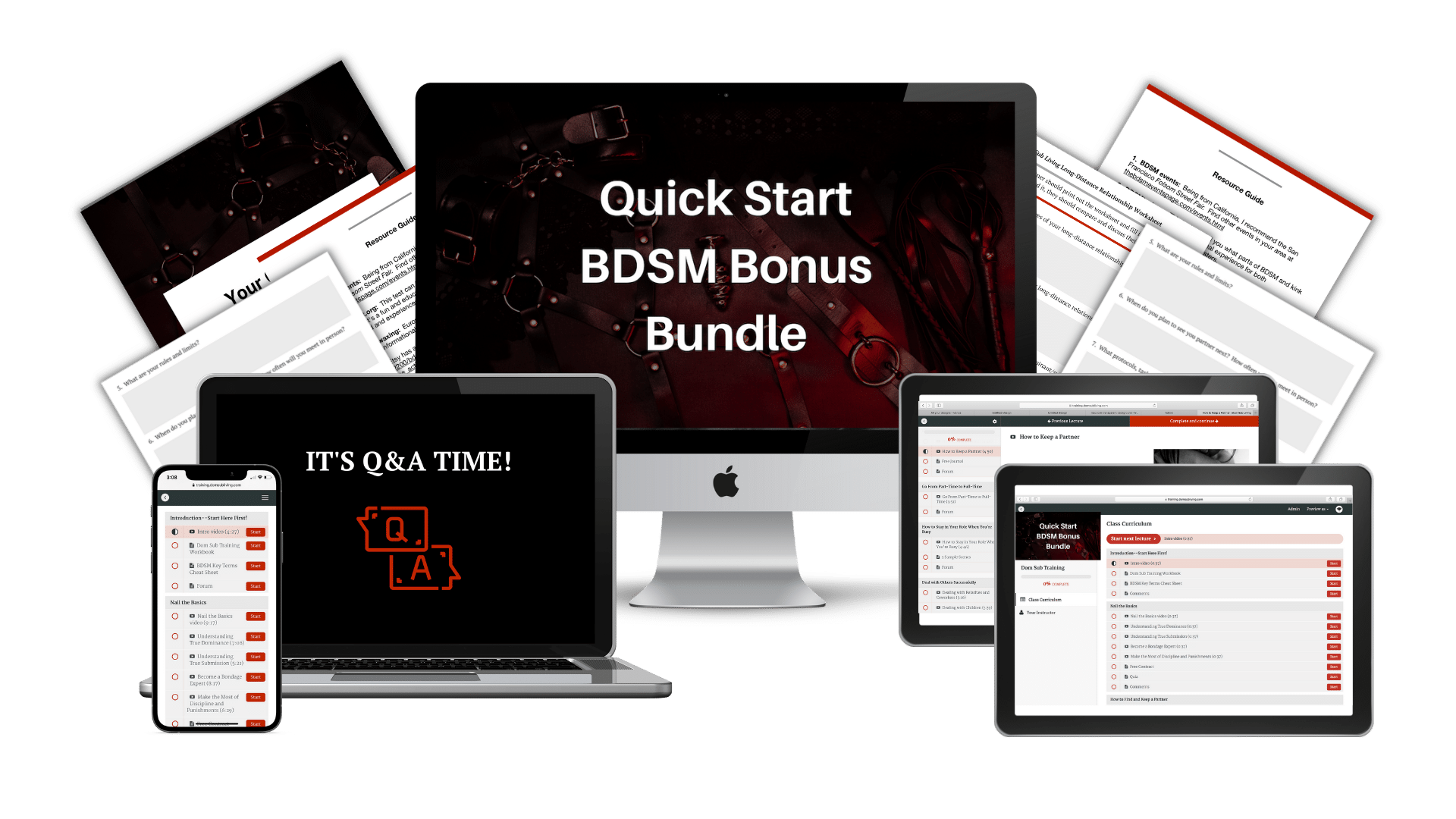 With this bundle, you'll get everything you need to begin the BDSM lifestyle, start having kinky sex, feel safe in exploring your different sexual desires, and be confident stepping into this world – without feeling like a total newbie.
This is all worth $400+, but you can get it…
FOR ONLY $400 $29!
I hate to break it to you, but the BDSM lifestyle involves more than just kinky sex.
Being a new Dominant or submissive can feel kind of overwhelming to many people.
I know how frustrating it is to scour the internet for the tools and teachings you need to get started.
Now you can enjoy the BDSM and kink lifestyle within MINUTES, not weeks or months.
AND I took care of compiling all of the best resources and tools you need, so you don't have to!
Stop stressing about how to be a good DOM or SUB.
Now you don't have to worry about making the common "NEWBIE" MISTAKES!
---
---
"I spent a handful of confusing months reading D/s blogs, BDSM Reddit posts, and watching Youtube videos, but never felt like I knew how to get started when it came to D/s relationships. Alesandra breaks down the process. She makes it insanely easy to understand!"
– Peter N.
"I can't recommend Dom Sub Living and Alesandra enough. They're hands down the best resource for living the BDSM lifestyle."
– Jessica S.
WHAT'S INCLUDED IN THE
Quick Start BDSM Bundle?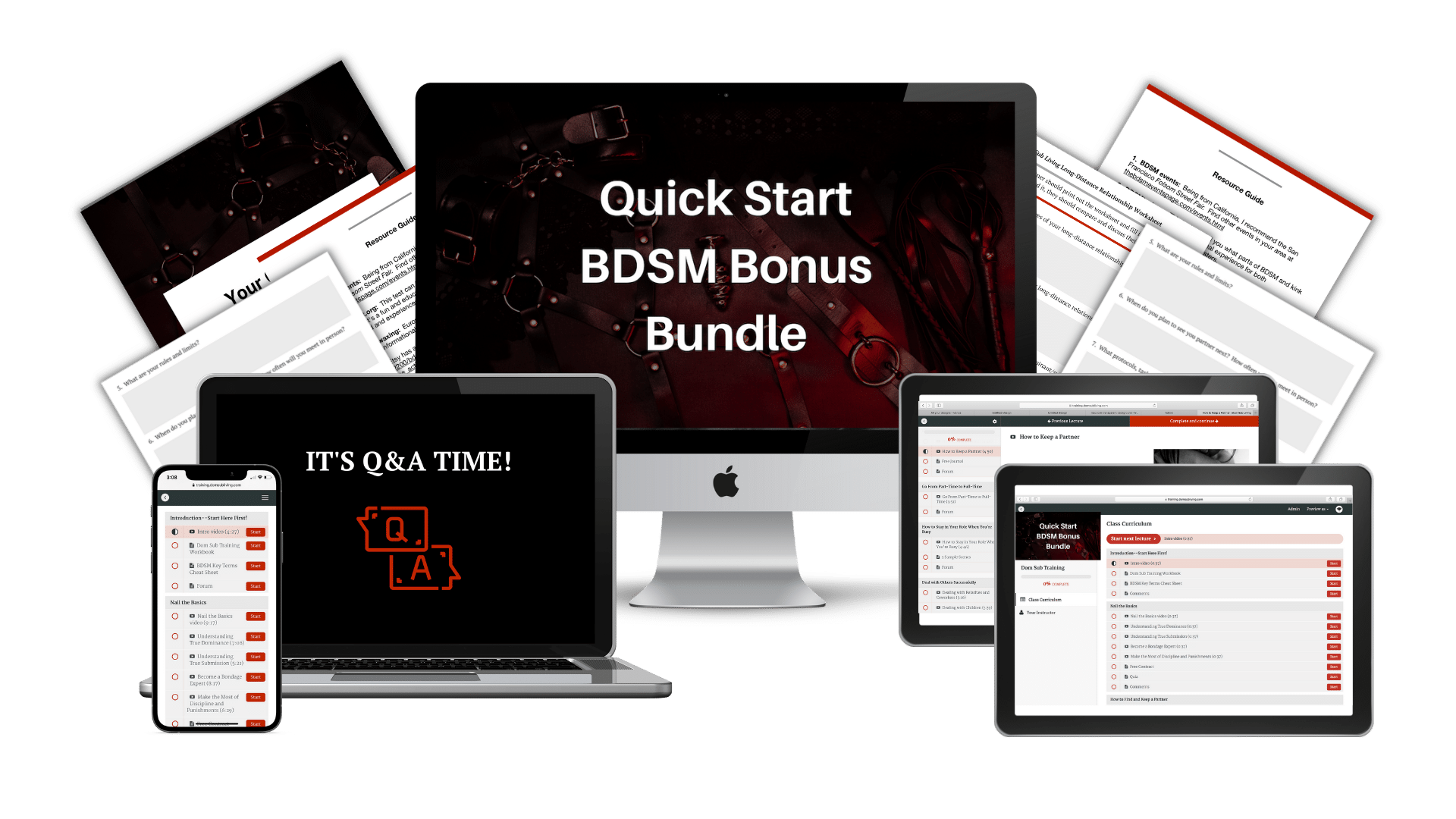 Action Plan Workbook & BDSM Key Terms Cheat Sheet
Sample BDSM Scenes for Ageplay, Master/slave, and Domme/sub
My Personal Daily Schedule as a Dom/sub Couple
Ultimate Kink Resource Guide with 15+ resources
7 Days of Bondage Tutorials for Free
Beginner Q&A recording
---
How do I know this works?
​The Quick Start BDSM Bonus Bundle will help you reach your goals and create more excitement, satisfaction, and fun in your life and relationships.
I know because my Dom and I have been in your shoes and we've proven to ourselves again and again just how effective these strategies are.
And I'm sharing the same strategies we've used to create an amazing BDSM lifestyle and build a kinkier relationship. If we can do it, so can you.
A LITTLE ABOUT ME
Hi, I'm Alesandra!
When my Dom and I decided to get started with BDSM and kink, we spent weeks doing nothing but researching the lifestyle. We watched countless YouTube videos, listened to podcast episodes, and read every blog post we could find.
It took serious work, but over the years we were able to figure out what strategies worked in real-life and what didn't.
Now I've taken our process, tools, and knowledge and put it together for YOU to implement in your own life and relationships to make starting your BDSM journey easy.
This bundle is for you if:
You've been searching for a way to live a kinkier life and have more fulfilling relationships. You know BDSM is the answer
You're ready to become the best Dom or sub you can be
You are all about finding resources and tools to make becoming a Dom or sub easier
This bundle is NOT for you if:
You think BDSM and kink are gross or shameful
You're not ready to make your needs and wants a priority
You are a professional or advanced Dom or sub with nothing to learn

Get this Bundle while it lasts!
This bundle won't be around forever and now is your chance to lock in an incredible deal and get a kick start on your BDSM journey!
When you click the button below, you'll be brought to a checkout page where you'll enter your email address and payment information.
From there, you'll get an email with instant access to your purchase in a members-only area.
What if I'm brand new to BDSM?

Fantastic! The Quick Start BDSM Bonus Bundle will help you get a running start with exploring BDSM. You could spend years trying to figure out how to live the lifestyle, OR you could start finding satisfaction NOW.
When will I get access to all of the bonuses?

Immediately after entering your payment information, you'll receive an email with a login link. If you ever lose track of that email or the link, you can always go to my home page, and click the Student Login link in the menu for easy access!
How long do I have access to the bonuses?

How does lifetime access sound? After signing up, you have unlimited access to the bonuses for as long as you like – across any and all devices you own.
Getting started with the
Dom/sub lifestyle just got a whole lot sexier