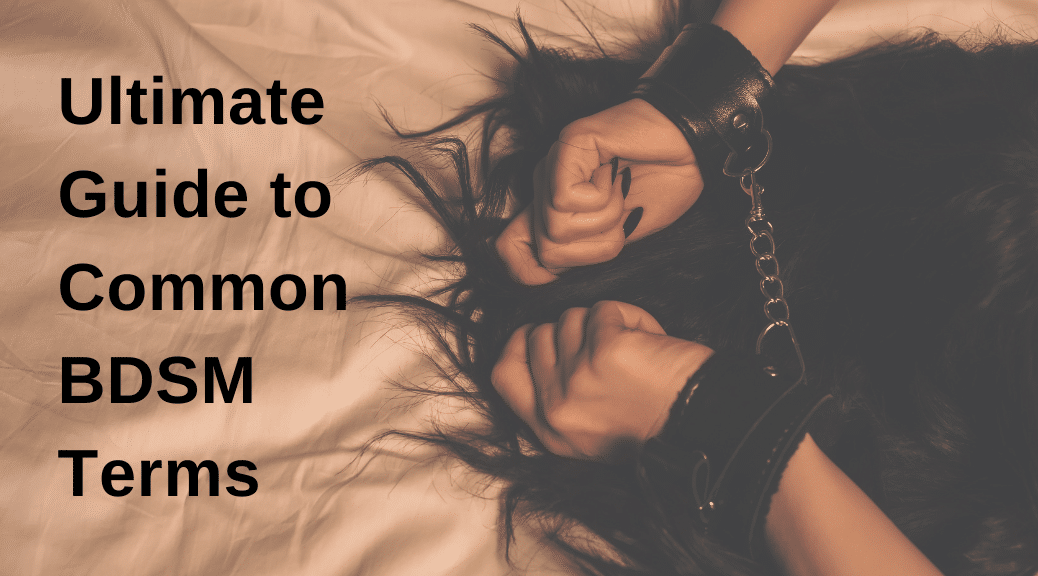 The exciting world of kink contains not only its own rules and protocols, but also its own extensive vocabulary, too. That terminology can often be intimidating for newbies. This article will be your high-level guide and BDSM glossary to the most common BDSM terms. I'll also share dominant and submissive terms that you need to know when engaging in this lifestyle. Download your free BDSM dictionary PDF below:
The Importance of Using the Correct BDSM Terms
Knowing and using the correct BDSM terms is important for several reasons. First and foremost, it helps to establish clear communication between all parties involved in a BDSM scene or relationship. Additionally, BDSM activities require a high level of communication and trust, and using accurate terminology helps to ensure that everyone involved understands their roles, boundaries, and limits.
Using the correct BDSM terms can also help newcomers to the community feel more comfortable and included. It can be intimidating to enter a new community with its own unique language and rules, but using accurate terminology shows that you are making an effort to learn and participate in the community.
The Risks of an Inaccurate BDSM Glossary
Not only can the wrong terminology can lead to confusion or misunderstandings, but it can lead to dangerous consequences. For example, using the term "stop" instead of a previously agreed-upon safeword could be misunderstood as part of the roleplay and may not communicate the need to stop the activity immediately.
Similarly, using the term "dominant" instead of "top" may imply that the person has complete control over the submissive partner, which may not be the case in all BDSM relationships.
Additionally, the kink community has a long history of being misunderstood and stigmatized, and using inaccurate terminology can encourage misconceptions and stereotypes. Using accurate BDSM terms shows respect for the community and its members. Click here to join our community of 2,000+ Doms and subs!
BDSM Dictionary: Glossary of Common Terms
Now that you know the importance of using the correct terminology, here is a basic BDSM dictionary for you to start with:
Aftercare– The practice of providing emotional and physical care after a BDSM scene or activity. Aftercare helps the submissive recover from the intensity of the experience, and ensure the safety and well-being of all parties involved.
BDSM– BDSM is an acronym for bondage and discipline, dominance and submission, and sadism and masochism. It is a lifestyle that involves a consensual power exchange between individuals.
Contract– An oral or written agreement between a Dominant and submissive that outlines the details of their power exchange. Click here to get your free contract
Dungeon– A dungeon is a space dedicated to BDSM activities. It is often equipped with BDSM furniture, such as a St. Andrew's Cross, spanking bench, or bondage bed.
Safeword- A safeword is a pre-agreed upon word or phrase used to indicate that a participant wants to stop a scene or activity immediately. It is a way to ensure that all parties involved are aware of each other's boundaries and limits.
Scene- A scene is a BDSM term used to describe a specific activity or session. It can refer to any activity, from a simple spanking to a full-blown dungeon session. Download a free sample scene here
SSC- SSC is an acronym commonly used in the BDSM community, and it stands for Safe, Sane, and Consensual. This term serves as a guiding principle for BDSM activities.
Switch- A switch is a person who enjoys both dominant and submissive roles in BDSM play. They may switch between roles within a scene or over time.
Click the image below to get your complete BDSM Dictionary with over 30 terms:
Dominant and Submissive Terms
The D/s lifestyle, which stands for Dominant/submissive, is a relationship dynamic that can exist independently of BDSM activities. While BDSM often involves power exchange between partners, not all power exchange relationships involve BDSM activities. Therefore, the D/s lifestyle has its own unique vocabulary to describe the power dynamics and roles within the relationship. Here are some examples:
Dominant Terms
Daddy/Mommy- A daddy/mommy dominant partner takes on a parental role in a BDSM relationship, providing guidance and support to their submissive partner.
Dominant- A dominant, or Dom, is a person who takes control in a BDSM scene or relationship. They are responsible for setting the scene, providing instructions, and enforcing boundaries.
Domme- A Domme is a femme dominant in a BDSM scene or relationship.
Master- A master is a dominant partner who has complete control over a submissive partner in a BDSM relationship.
Top- A top is a person who takes the dominant role in a BDSM scene or activity. They may not have the power dynamics or control of a dominant in a relationship but have the power to lead and guide the scene.
Submissive Terms
Bottom- A bottom is a person who takes the submissive role in a BDSM scene or activity. They may not have the power dynamics or control of a submissive in a relationship, but they have the power to receive and follow instructions.
Little- A little is a submissive partner who takes on a younger persona, such as a child.
Slave- A slave is a submissive partner who has given up complete control to their dominant partner in a BDSM relationship.
Sub- Sub is a shorthand for submissive.
Submissive- A submissive is a person who willingly submits to the control of a dominant in a BDSM scene or relationship. As a result, they follow instructions and surrender their power to their dominant partner.
Whether you're a newcomer to the BDSM community or a seasoned practitioner, I hope that this glossary has been helpful in providing a better understanding of the world of kink and BDSM. To make things even easier for you, I've also created a free downloadable PDF of this BDSM glossary that you can keep on hand as a reference guide. Just click the image below:
Want more?  Sign up for my newsletter and get BDSM tips on the regular.