In the world of BDSM, Dominants play a pivotal role in guiding and leading their submissive partners. But did you know that there are different types of Doms with distinct approaches and styles? Examples can include Primal Dom, Gentle Dom, Part-Time Master, and Kinky Dom (just to name a few). In this article, we'll explore their unique roles and dynamics. I even have a free quick-start guide for you below!
How Many Types of Doms are There?
The number of types of Doms in BDSM is vast and ever-evolving. As the dynamics of power exchange continue to evolve and individuals explore their unique desires, new categories and variations emerge. While it's impossible to provide an exhaustive list, it's safe to say that the spectrum is diverse and extensive.
It's also important to acknowledge the fluidity and flexibility of Dominant identities. Some individuals may embody multiple roles simultaneously, blending various aspects of dominance to suit their personal preferences and the needs of their sub. Obviously, the exploration of BDSM is a deeply personal journey that encompasses a wide range of approaches, techniques, and philosophies.
As you delve into the world of BDSM, you'll probably encounter Dominants who identify with specific categories. However, it's essential to remain open-minded and receptive to the diversity within the community. Embrace the opportunity to learn from others, explore new dynamics, and know that the number of types of Doms is limited only by your imagination.
Primal Dom
The term "Primal Dom" refers to a Dominant who embraces and exhibits raw, instinctual power and dominance. They tap into their primal nature, emphasizing intense physicality and embodying a more primal and animalistic style of domination.
A Primal Dom often focuses on the physical and emotional energy exchange between themselves and their submissive partner, creating an experience that can be both intense and passionate. This type of Dom may enjoy engaging in rough play, biting, and exploring the boundaries of D/s through a more primal lens.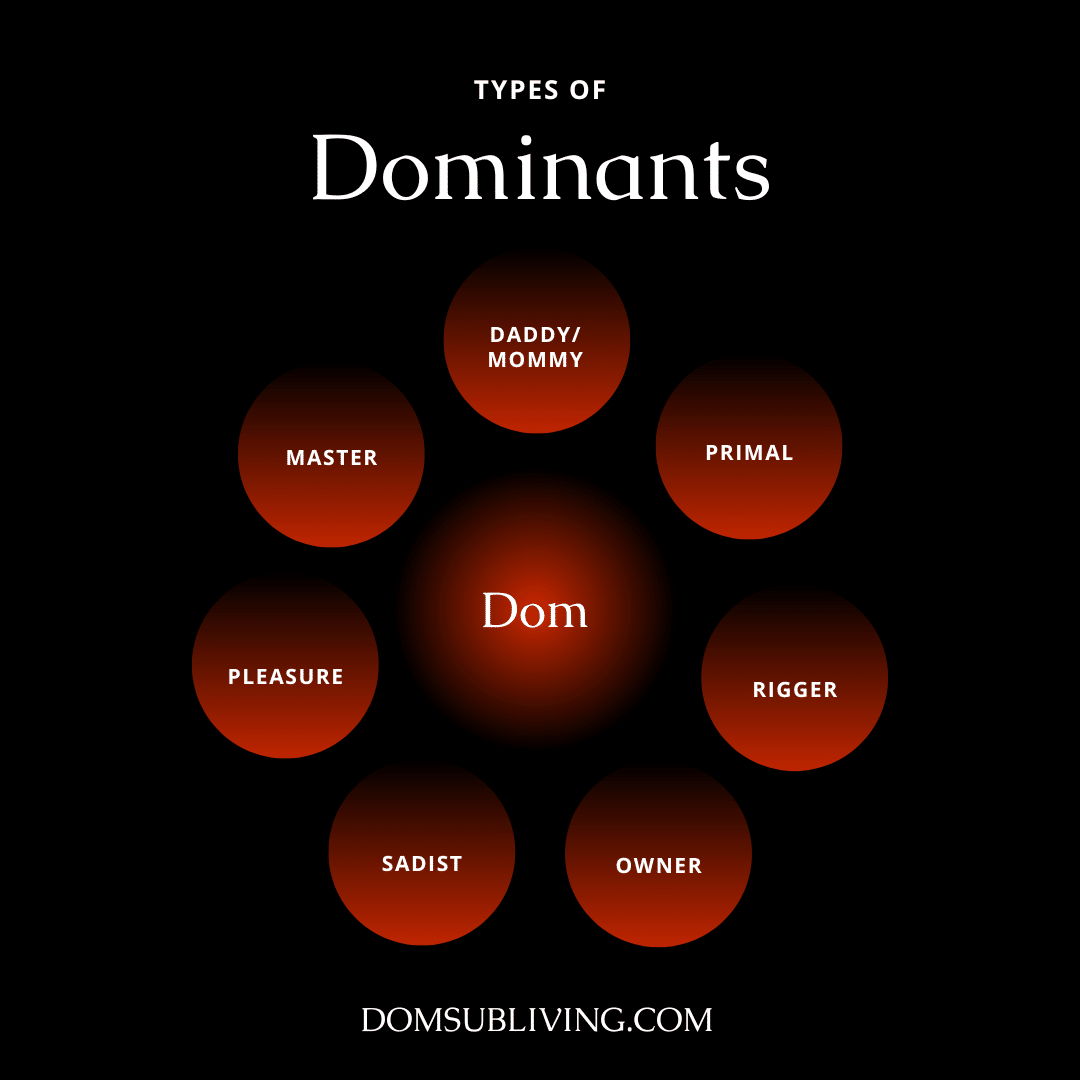 Gentle Dom or Soft Dom
In contrast to the intense and animalistic nature of a Primal Dom, a Gentle Dom prioritizes a softer and more nurturing approach to dominance. They emphasize care, empathy, and emotional connection within their power exchange dynamics.
A Gentle Dom or Soft Dom also strives to create a safe and supportive environment for their sub, fostering trust and mutual respect. They may focus on providing guidance, comfort, and emotional stability while still asserting their authority. This type of Dom understands the importance of aftercare and prioritizes the well-being of their submissives throughout the entire BDSM journey.
Part-Time Master
A Part-Time Master refers to a Dominant who assumes the role of a Master or Mistress on a part-time basis. This can occur due to various reasons, such as professional commitments, family obligations, or personal circumstances.
While they may not be available for full-time dominance, Part-Time Masters still dedicate themselves to the responsibility of guiding and leading their submissives during the time they are actively engaged in their roles.
Communication and negotiation become crucial in establishing clear boundaries and expectations to ensure a fulfilling experience for both parties involved.
Click the image below to download your free "How to Be a Good Dom" Quick-Start Guide:
Kinky Dom
The term "Kinky Dom" encompasses Dominants who embrace a wide range of alternative and unconventional sexual practices within the realm of BDSM. These Doms are often adventurous and open-minded, seeking to explore and push the boundaries of traditional dominance and submission.
A Kinky Dom may engage in various fetishes, role-playing scenarios, or sensory play, and they are enthusiastic about incorporating elements of kink into their power dynamics. It's important to note that consent, communication, and safety remain paramount in any kinky exploration, with both partners actively involved in negotiating and establishing limits.
Other Different Types of Doms in BDSM
In addition to the other different kinds of Doms I mentioned, here are some other common roles:
Sadistic Dom: A Sadistic Dom finds pleasure in inflicting consensual pain or humiliation upon their submissive partner. They may enjoy activities such as impact play, bondage, or psychological domination. It's crucial for a Sadistic Dom to prioritize communication, consent, and the well-being of their submissives.
Daddy Dom/Mommy Domme: A Daddy/Mommy often embraces a nurturing and parental approach to dominance. They take on a caregiver role and provide emotional support, guidance, and protection to their "little" or submissive partner. A Daddy/Mommy may engage in age play.
Rigger: A Rigger excels in the art of rope bondage, creating visually stunning scenes through intricate ties and suspensions. With expertise in various techniques and focusing on safety, they skillfully restrain and suspend their rope bottom (or rope bunny).
Master/Mistress: This title is often associated with Dominants who assume a higher level of authority and control over their submissives. Masters/Mistresses may engage in 24/7 power exchange dynamics, slave ownership, or protocols that emphasize strict obedience and service.
Financial Dom: Financial Domination, also known as Findom, involves deriving pleasure and control through financial arrangements with their submissives. They may demand tributes, gifts, or financial support from their submissives as a form of submission and devotion.
Owner: In pet play, an Owner trains their submissive partner who takes on the persona of a pet or animal. They establish rules, provide care, and nurture a pet-like dynamic. Through pet play activities, accessories, and training sessions, the Owner creates an immersive and fulfilling experience.
Pleasure Dom: A Pleasure Dom focuses on sensory experiences, intimacy, and sexual pleasure within the power dynamic. As a result, they prioritize exploring sensory play, erotic touch, sensual massages, or sensory deprivation to heighten the erotic connection.
Which Type of Dom is Right for You?
Hopefully I was able to give you a glimpse into the vast spectrum of dominance styles within BDSM. Remember, these categories are not exhaustive, as individuals may embody a combination of these traits. Therefore, exploring and finding the right fit for you personally is an ongoing journey that requires open communication and consent.
If you're interested in learning how to be a Good Dom, then download our free quick-start guide below. It's packed with valuable information and resources to help you navigate the exciting realm of dominance and submission.
Want more?  Sign up for my newsletter and get BDSM tips on the regular.