It's always a good idea to have a BDSM contract before you begin any new Dom/sub relationship. It spells out in detail what is expected of each person. It also keeps things safe and consensual. Even if you are just starting to explore kink, a BDSM contract can make communication easier. It's one of the few things Fifty Shades of Grey got right. Here are some ideas for you, and be sure to download your free BDSM contract.
Are real-life BDSM contracts really a thing?
Dom sub contracts have gotten a lot of attention over the years. This is mostly thanks to the Fifty Shades of Grey books by author E. L. James. Many people have even tried to capitalize on this frenzy financially. A lot of websites now sell sample BDSM contracts online (you can get ours for free simply by clicking the image above).
A printed out, BDSM contract was a huge focal point in that mainstream fictional erotic story. Despite that, they have been an important, real-life tool used by the kink community for decades. A BDSM contract is a written document showing consensual agreement in power exchange dynamics. And they are used in real-life scenes, just as frequently as other tools like floggers and riding crops.
Your BDSM contract should be somewhat formal
Everyone has probably seen the Fifty Shades of Grey contract scene. In the movie, the characters Anastasia and Christian amend their Dominant and subdominant contract. They also discuss her hard and soft limits as a potential sub. They cross out and add different items to the list. It's done at his work, at an office table.
While your negotiations do not have to be as elaborate as Fifty Shades of Grey, it should be more than just a conversation. If you're just talking about what you like and don't like in bed, you're basically having a regular vanilla discussion. Plus, it's incredibly sexy to discuss sexual rewards and punishments openly and out loud with your partner.
Here is an example of the formal wording from the template:
"The fundamental purpose of this contract is to allow the submissive to explore their sensuality and their limits safely, with due respect and regard for their needs, their limits, and their wellbeing."
To read more of what's actually included, be sure to download yours for free.
What to include in a BDSM contract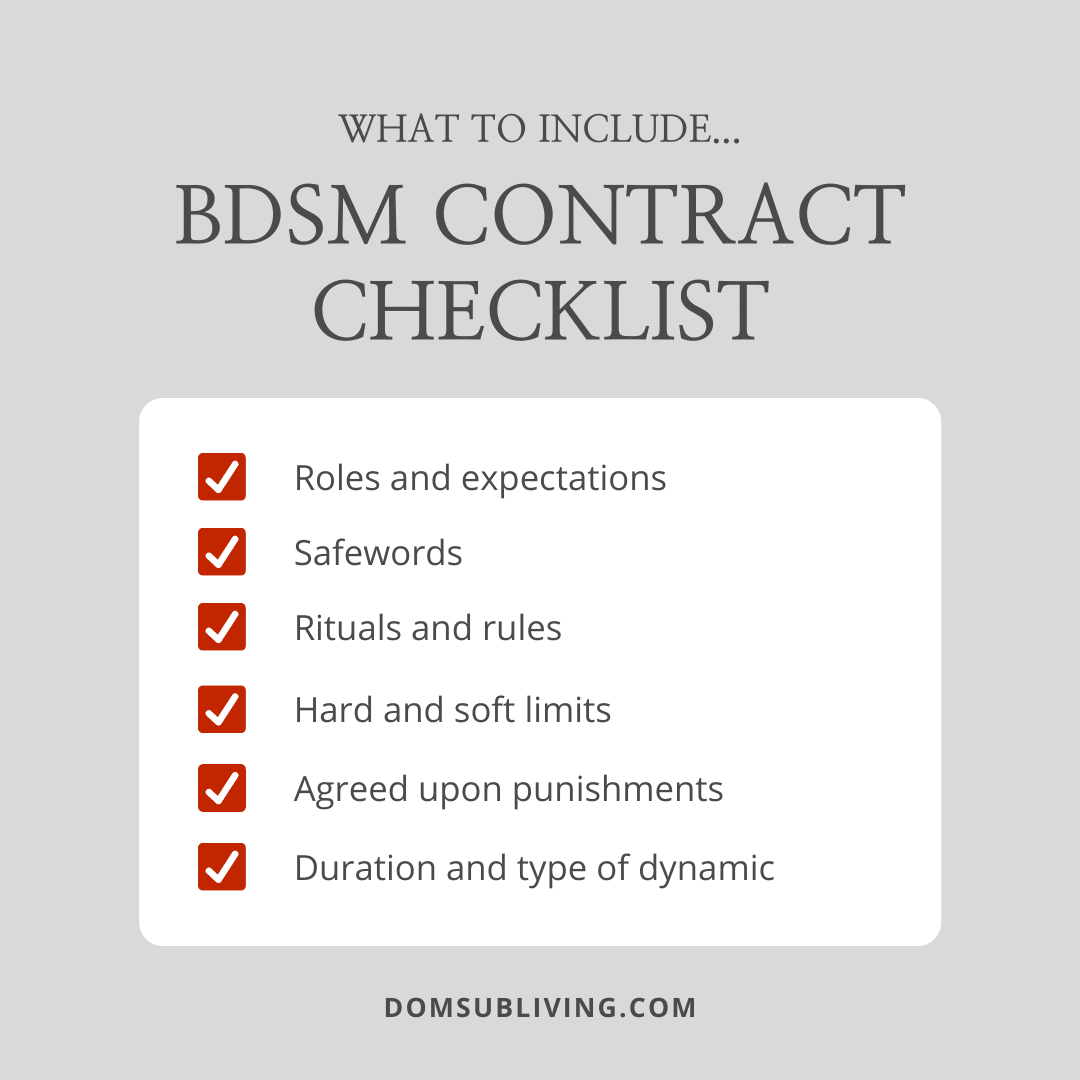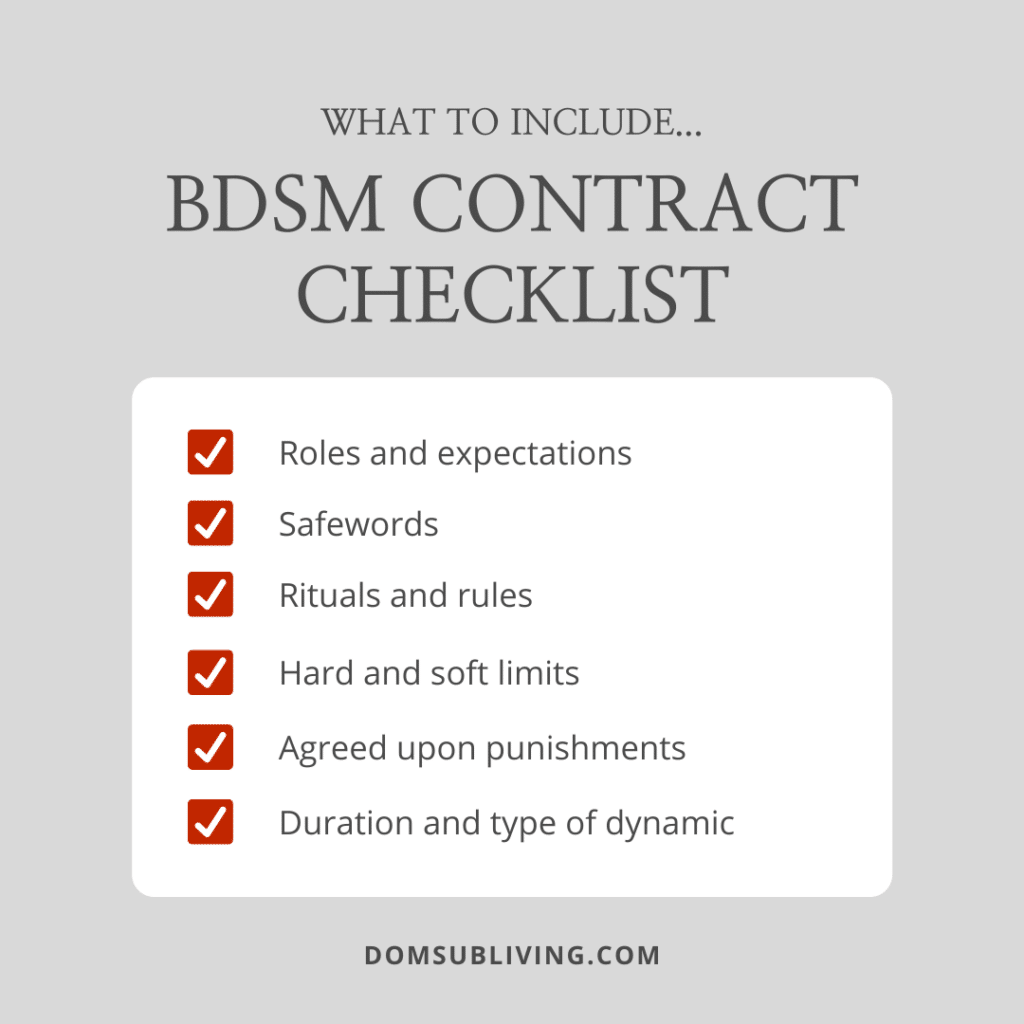 A BDSM contract contains what both parties will and won't do. It clearly spells out the roles expected for each person and what these involve. It will also explain a sub's availability: is this part-time, long distance, 24/7, or total power exchange? My Dom and I practice 24/7 TPE, so our contract reflects that.
Other things that are good to have listed in it are the start date, and how long the relationship will last. It can be mostly sexual, or include emotional and physical aspects. Here is a list of other topics to include:
You can also include how long the BDSM training or dynamic will last. For example, is there a trial period, or will this relationship be indefinite? You can also include your boundaries on whether or not either of you can have other partners, or practice consensual non-monogamy.
Remember, this is your contract, so make sure it contains anything you feel strongly about. I've seen contracts that are just one short page, and others that are a dozen pages. There is no right or wrong way to write one. However, always make sure you feel comfortable with everything it includes (or doesn't include).
What not to include in a BDSM contract
Just as important as what to include in your BDSM contract, is what not to include. One of the biggest mistakes I see couples make is to try to include every rule they have in their dynamic. This can go bad for several reasons.
First, if a submissive slips from their role and says or does something disrespectful, they could use the excuse that what they did or said wasn't specifically mentioned in the contract. This can also be a sign of topping from the bottom.
Also the Dom can become very overwhelmed. This is because they will have to add and update the document as new rules are added or taken away. It's much easier if your written agreement focuses more on the broader rules of your dynamic and the overall principles of each person's roles.
So what do you do instead with all of your everyday rules that change and adapt with time? One thing you can do is create a separate note or shared task list. This can contain each individual rule you are currently working on. That way the dom sub contract becomes more like a guiding representation of your relationship, and doesn't get easily broken.
Are BDSM Contracts just for beginners or for the more advanced?
There has been a lot of debate lately in the kink community about who these written agreements are best for. Beginners in BDSM are sometimes reluctant to create one because they think they are just for hardcore veterans. While advanced kinksters sometimes believe they are only useful for newbies. Who is right?
Surprisingly, both experience levels benefit greatly from using a traditional power exchange document. This gives beginners a way to start the kink conversation with their partner and learn their likes and dislikes. Whereas advanced Doms and subs can use this tool to stay on track with the lifestyle in their relationship. This will help them to stay out of the dreaded "vanilla rut" that can sometimes happen.
A lot of the times when a long-term D/s relationship is starting to fall apart, one of the biggest reasons is because the couple stopped using a contract. Or even worse: they never even had one to begin with. So whether you are a beginner or more advanced, do yourself a favor and download my free template above.
Is a BDSM contract legally binding?
This is a legit question that has been brought up in actual court cases involving sexual violence and consent. A BDSM contract is an extremely useful and sexy way to communicate one's sexual desires and limits. They can also help you to get into the Dom/sub mindset. However, a BDSM contract it isn't legally binding or ironclad.
While every country and their laws are different, a BDSM contract usually does not hold up in court. Legally, it also doesn't imply 100% explicit consent.
With that being said, contracts are still a good idea to have for physical and emotional safety and communication. If someone says contracts aren't needed at all, or if your partner refuses to create one with you, that can be a sign of a fake dom.
It's good to remember that verbal agreements can be easily forgotten or misunderstood. That's why even vanilla counselors and therapists recommend written contracts in relationships. They're just practical and proven to work.
Also, if you can't trust someone to agree and abide by a simple piece of paper, how can you trust them to take care of you or serve you? A contract is a physical form showing the trust both partners have for each other.
How to use my free BDSM contract PDF template download
My contract I have with my Dom is somewhat like the one from Fifty Shades of Grey. You can download a free printable copy of the actual BDSM contract template and implement it in your own relationship. While some may say the wording sounds cheesy, I get turned on by the business-like terminology.
Feel free to change parts or add your own additions to the printable PDF. If you'd like, you can also copy/paste it into a Word or Pages document, and edit it even further.
The printable PDF download doesn't include the Appendix 4 food list from the Fifty Shades of Grey contract. This is because it never appeared in the book or the movie, but you could always make your own.
What do you do with the Dominant and submissive contract afterwards?
After a Dom and a sub sign a contract, what happens to it? It should always be accessible to both parties to refer back to when needed. After you sign it, you and your partner should both have a copy to download and print if you'd like.
My Dom and I keep ours in our bedroom nightstand. I like having it close to us, because as a sub, it reminds me that I am bound to him. Every few months or so, we bring it out and have a negotiation session. We reread it together, reminding both of us of our boundaries and expectations.
Usually during these regular negotiations nothing really changes, but it helps us not to forget DD/lg roles. And discussing it together always turns us on.
What do you do if the Dom/sub contract gets broken?
If boundaries aren't respected and the BDSM contract gets broken, what should happen? Well, it really depends on the situation and the individuals involved. Sometimes for a seemingly minor offense the partner at fault could be warned never to do it again.
For more major breaches of trust though, the innocent partner always has the power to terminate the relationship. And it's always a good idea to discuss beforehand the consequences of breaking a contract. You can even include those possible scenarios and consequences in the document.
Here is an example of how that is worded in my free printable template:
"If at any time the Dominant should fail to keep to the agreed terms, limitations and safety procedures set out in this contract the submissive is entitled to terminate this contract forthwith and to leave the service of the Dominant."
As you can see, kinky contracts aren't just for Fifty Shades of Grey. Everybody practicing BDSM should feel free to have one. Download my printable BDSM contact PDF template or create one with your partner and make sure to go over it periodically together.
Even if you're not currently in a relationship, it's good to have one written out. That way you already have a clear understanding of your own boundaries and expectations.
Hopefully this article has inspired you to create your own version! Then you can enjoy the experience of finally having a real-life BDSM contract.
Want more?  Sign up for my newsletter and get BDSM tips on the regular.
Keep reading: Setting Limits »