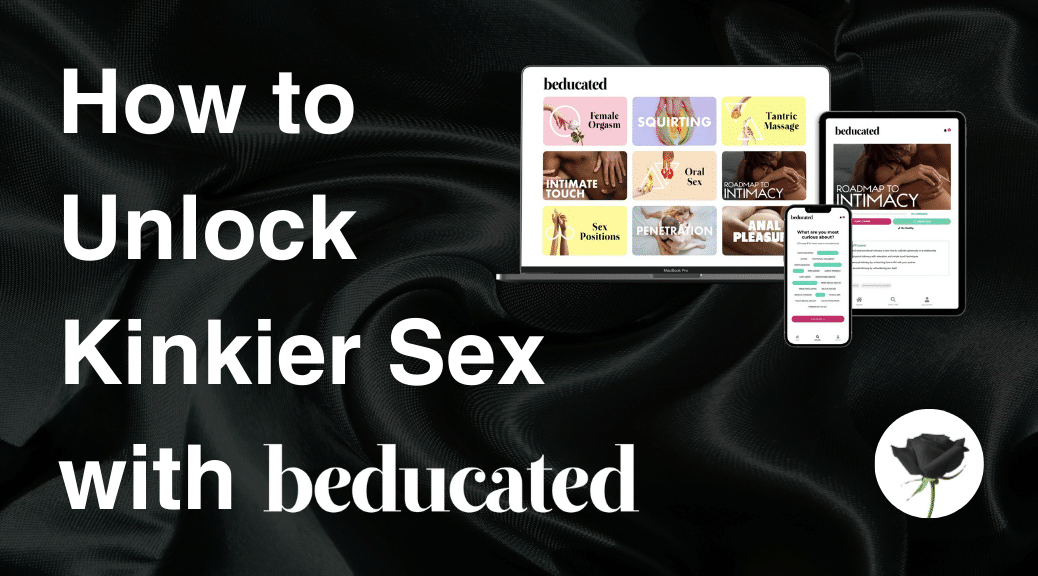 As a Dom/sub couple, my partner and I are always looking for ways to explore our sexuality and improve our intimate relationship. One of the resources we've found incredibly helpful in this regard is Beducated. Keep reading for my complete Beducated review, and also get your coupon code for a subscription discount.
There may be affiliate links in this article which means I may receive a commission if you purchase something through a link. However, please be assured that I only recommend products I have personally used and love.
My Honest Beducated Review
Beducated is an online platform offering a wide range of kinky courses. Beducated caters to those who seek to explore their sexuality and improve intimate relationships. I've found it invaluable for discovering kink in Dominant/submissive dynamics. Beducated is an excellent tool for exploring kinkier sex in a Dominant/submissive dynamic, with courses designed for specific kinks.
You'll also discover how to incorporate BDSM into your sex life in a safe and fulfilling way. For example, we recently took the Art of Erotic Spanking course. It provided us with a refresher of how to safely and consensually incorporate spanking into our sexual repertoire.
The course covered everything from choosing the right implements to setting boundaries and communicating with your partner during the scene. As a result, we were able to dive deeper into one of our kinks safely and comfortably.
A Subscription Full of a Lifetime of Kinky Knowledge
Another way I use Beducated to have kinkier sex is by using their Ultimate Guide to Sexual Positions course. While not specifically focused on kink, this course provides a wealth of information on different positions and techniques. You can then use these to add variety and excitement to your sex life.
By trying out some of the positions and techniques from this course, I have been able to experiment with new ways of touch and pleasure that I might not have thought of otherwise.
Some of my top recommended courses available on Beducated that can help you explore kinkier sex include:
BDSM Basics: This course covers the basics of BDSM, including safety, communication, and consent. It's a great starting point for anyone new to kink.
Tantra for Erotic Empowerment: Tantra is an ancient practice that can help you connect with your body and partner on a deeper level. This course teaches you how to use tantra techniques to enhance your sexual experiences.
The Art of Erotic Spanking: Spanking is a popular kink that can add excitement and intensity to your sex life. This course teaches you how to safely and consensually incorporate spanking into your sexual repertoire.
The Art of Feminine Dominance: If you're a woman interested in exploring Dominant/submissive dynamics in your relationship, this course can help. It teaches you how to embrace your dominant side and take control in the bedroom.
The Ultimate Guide to Sexual Positions: While not specifically focused on kink, this course can help you spice up your sex life by exploring new and exciting positions.
Special Promo Bonuses Included in Your Subscription
Beducated also offers a range of promo bonuses that can help you learn more about kink and BDSM within a Dominant/submissive dynamic. Their blog posts cover a wide range of topics, from how to negotiate a BDSM scene to tips for incorporating kink into your long-term relationship.
They also offer live events and workshops. These provide opportunities to connect with other like-minded individuals and learn more about specific kinks and BDSM practices. The benefits of these will last a lifetime!
I'm also offering a limited time promo discount, where you can get lifetime access to one of my trainings for free, if you sign up for Beducated with my link. (Details here)
Your Coupon Code and Subscription Discount
I've got exciting news if interested in exploring kink and BDSM! I've partnered with Beducated to offer a special promo where you can get a whopping 25% off your subscription.
✨ Just enter coupon code: DOMSUBLIVING >> ✨
This limited-time discount is an excellent opportunity to dive into the world of kink and BDSM with Beducated's comprehensive and informative courses at an incredible discount.
To take advantage of this fantastic promotion, simply jump to the bottom of this article, and click the red button. Next, pick your pass you're interested in, proceed to the checkout, and enter coupon code DOMSUBLIVING to get 25% off. It's that easy. Don't miss out on this special promotion to learn and explore kink and BDSM with Beducated at a discounted price!
How to Use Beducated for Kinkier Sex
Above all, the key to using Beducated for kinkier sex in a Dominant/submissive dynamic is an open mind and communication with your partner. BDSM and kink can be fulfilling ways to explore your sexuality, but require trust and communication. This is especially true in a Dom/sub dynamic.
In addition, Beducated helps you learn about kink and BDSM safely and comfortably, respecting both you and your partner's boundaries. And if you're seeking personalized guidance and support, Beducated offers private coaching for individuals and couples. These consulting services can be tailored to your specific needs and desires.
Review Beducated For Yourself For Free
I hope you've seen in this Beducated review, that the platform is an excellent resource for anyone interested in exploring kink and BDSM within a Dominant/submissive dynamic. The benefits will last a lifetime, and you can try it for free for 24 hours, with a 14-day money-back guarantee!
At Domsubliving.com, we highly recommend this platform for anyone looking to improve their sex life and deepen their connection with their partner through kink and BDSM.
I really hope this Beducated review helped you to explore kinkier sex!
Want more?  Sign up for my newsletter and get BDSM tips on the regular.